ALL ABOUT SHIPPING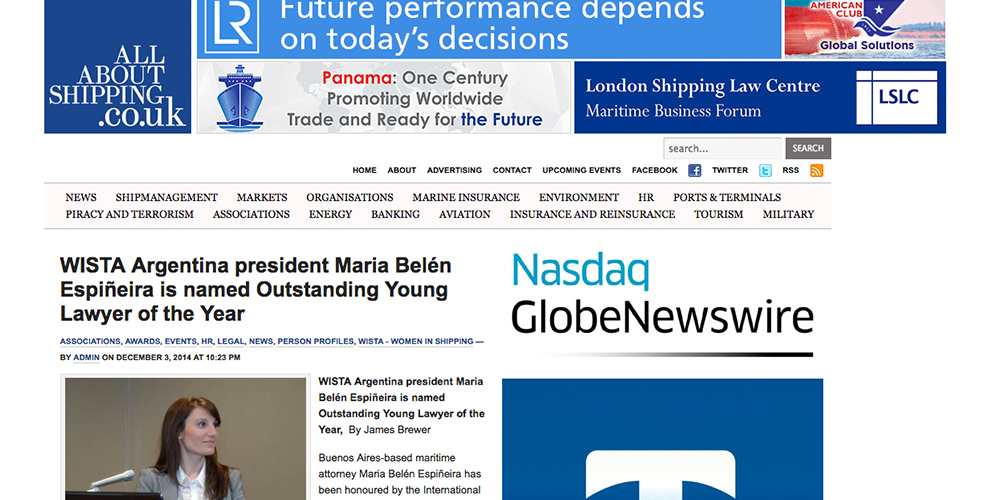 WISTA Argentina president Maria Belén Espiñeira is named Outstanding Young Lawyer of the Year, By James Brewer
Buenos Aires-based maritime attorney Maria Belén Espiñeira has been honoured by the International Bar Association with the accolade of Outstanding Young Lawyer 2014.
Ms Espiñeira received the award during the global association's annual conference in Tokyo. Managing her own consultancy (International Transport & Logistics Legal Consultants) after earlier experience elsewhere in Argentinean maritime law firms, she has represented domestic and international shipowners, protection and indemnity clubs, shipping agencies, port operators, average adjusters and other marine entities.
She is a founding member and president of WISTA Argentina, part of the Women's International Shipping & Trading Association, which has brought her additional worldwide contacts and prominence.
The International Bar Association Young Lawyers Committee presents its award annually to a young lawyer who has shown excellence in work and achievements and a firm commitment to professional and ethical standards.
From left: Ian McDougall of LexisNexis, IBA president Michael Reynolds, Maria Belén Espiñeira and Gabrielle Williams of the IBA.
Ms Espiñeira's commendation will be seen as particularly impressive because of the standing of the IBA , which comprises 55, 000 individual lawyers and 206 bar associations and law societies. The IBA says that it "influences the development of international law reform and shapes the future of the legal profession." Its member organisations include the American Bar Association, the German Federal Bar, the Japan Federation of Bar Associations, the Law Society of Zimbabwe and the Mexican Bar Association.
One of the first messages of congratulations received by Maria Belén Espiñeira came from the University of Wales, Swansea, which said it was rewarding to see her among its alumni receiving international recognition for their services in the legal sector. Ms Espiñeira graduated in 2008 from the Welsh institution with an LLM, with distinction, in international maritime law. Her thesis on the concept of constructive total loss was much praised. The university's department of postgraduate legal studies, which administers the LLM, expressed pride in seeing its graduates holding significant positions in the maritime, banking, insurance and legal sectors.
From the University of Buenos Aires, where she is now an ad honorem lecturer in maritime law, Ms Espiñeira has a postgraduate diploma in maritime and aviation law.
For more than five years, she has given pro bono legal advice to the association Amar, a non-profit organisation that provides care and housing for people with mental disabilities, and support and guidance to their families. Among its facilities, Amar runs a tango dancing school for people with mental difficulties.
The Young Lawyer of the Year Award was created in recognition of the late William Reece Smith Jr, a former IBA president, who in a career of more than 50 years was a leader in the legal profession and promoted charitable and civic causes, including legal services to the poor. The award is sponsored by information services group LexisNexis.
Among those leading the ceremony were IBA president Michael Reynolds, who made the formal award presentation; chair of the IBA public and professional international division Gabrielle Williams; and executive vice-president and general counsel for LexisNexis Legal & Professional Ian McDougall.
Ms Williams said that Ms Espiñeira was selected because of her achievements, because she runs her own law firm within a male-led industry and in a traditionally masculine-oriented society, and for setting up WISTA in Argentina and because of the aims that association promotes.
In her acceptance speech, Ms Espiñeira congratulated the IBA and LexisNexis on the initiative, which promotes excellence in professional development with a humanistic vision. "We are blessed because we have the chance to study and become professionals, therefore we should be conscious of the need and importance of giving at least something back to the community, " said the Argentinean lawyer.
Ms Espiñeira added that she always encouraged her students to pursue their education and do their best while they were young, "because even though it is never too late to study and improve, it is easier and better to do so when we are young, because that will definitely open new doors at an early stage. "
Within WISTA, Ms Espiñeira is keen to encourage the establishment of further chapters in Latin America. "A non-profit organisation set up in 2013, WISTA Argentina is now part of the Argentinean shipping community, " she said. "It supports and encourages women to incorporate themselves into what is traditionally a male-orientated industry and to occupy leadership positions. Through the association, we demonstrate to women that they can play a fundamental role, and create opportunities for the exchange of experiences between those in the public and private sector, and those on board and ashore."
Fuente:
http://www.allaboutshipping.co.uk
---